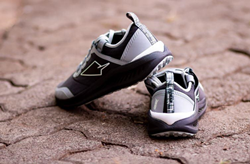 "We are honored to pay homage to our trail running ancestors with the Koobi Fora while supporting today's communities," said Co-Founder Navalayo "Nava" Osembo. "Kenya is well-known for our incredible runners that train relentlessly and bring immense pride to our country."
ST. GEORGE, Utah (PRWEB) October 21, 2021
Enda, the first shoe brand proudly made in Kenya, introduces the Koobi Fora trail shoe to its footwear collection for casual and professional runners. The new trail shoe weathers wet conditions and offers quick-drying features so that nothing keeps runners off their terrain.
Sharing much of its DNA from the brand's existing running shoes, the Koobi Fora has more prominent, aggressive lugs and a non-woven flexible rock plate sandwiched between the midsole layers adding to its durability.
Koobi Fora continues the Kenyan brand's innovation in footwear design made for both the occasional runner and trailblazing athletes. Koobi Fora features a water-resistant shield over the front of the foot and a quick-drying booty in the back. A runner can go through wet grass or splash through a puddle and stay dry. They can dunk their entire foot in a river and the shoe will dry quickly without trapping water inside the shoe.
The stylishly bright Koobi Fora features accents from Kenyan culture, the region's natural features and vibrant colorways inspired by native birds. The shoes are offered in six colorways in men's and women's sizes, priced at $125 per pair.
Koobi Fora is a place in northern Kenya on the shores of Lake Turkana, where our human ancestors evolved to a bipedal species and became runners. Over a million years ago, we were born to run. Fossil evidence points to that fact. The skull of an early human, KNM-ER-1470 belonging to Homo rudolfensis, was found in Koobi Fora.
"We are honored to pay homage to our trail running ancestors with the Koobi Fora while supporting today's communities," said Co-Founder Navalayo "Nava" Osembo. "Kenya is well-known for our incredible runners that train relentlessly and bring immense pride to our country. Their footwear plays a huge part in their perseverance under harsh conditions. Enda is motivated to continue offering innovative footwear to let them achieve their goals. Now, everyone can enjoy a remarkable training experience with the Koobi Fora. Once again, Kenyans are revolutionizing the world of running."
For a challenge at the beginning of 2021 to break the record for Fastest Known Time to climb Mount Kenya, elite athletes wore the sturdy Koobi Fora and Enda's Itens shoes, ascending and descending the second tallest mountain in Africa. Runner Joan Cherop Massah was successful in setting a record time.
Enda brings Kenyan athletic greatness to runners worldwide while fueling economic development in the region, with 2% of all purchases going back into the local communities. Creating skilled jobs with higher wages and reducing environmental impact further the brand's commitment to its people and the planet. The brand is Certified B Corp, Climate Neutral Certified, and vegan-friendly.
For more information, visit https://www.endasportswear.com
About Enda:

Enda is the first shoe brand proudly made in Kenya. The brand helps you run Kenyan while you give back to the country. The shoes are designed to give you the most from each workout and see your running improve consistently. The bottom line – its shoes are built for dancing on any terrain.
Share article on social media or email: