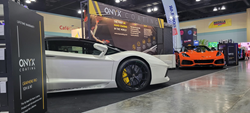 The show is an iconic display of motoring, and offers a glimpse of where the industry is going.
BERLIN (PRWEB) October 11, 2021
This year, for the first time, ONYX Coating made a showing at the annual British Motor Show in beautiful Farnborough. Nestled in the historic town, amongst both the finest of antique cars and the bleeding edge supercars of today, ONYX Coating made a showing with a product line worthy of protecting the vehicles on display. Sat just across from a range of beautiful Ferraris, the wares were shown off to a fascinated public.
As ONYX Coating makes inroads into the European market, Great Britain has been a key-inroads. With this showing, the company is hoping to show the public the quality and high standards it holds. Something it did astoundingly over the course of the four-day event.
The show is an iconic display of motoring, and offers a glimpse of where the industry is going. A glimpse of a future where the latest tech and engineering offers motoring experiences like never before. A future which includes ONYX Coating protecting the cars of the future, along with the stunners of today, and the classics of the past.
The company made another outing at the 2021 Caribbean International Auto Expo in Puerto Rico, as a part of its expansion in the Americas. In the sun-soaked city of San Juan, ONYX Coating stood proud alongside a vast assortment of vehicles. Awash in a sea of classics, the finest of today, and even some peeks at the future.
Given the size of the American market for the industry, this represents another major move for ONYX Coating. With the show being a combination of the Las Vegas and New York Auto Expos, it was a major opportunity to show the business' wares and ONYX's future in the market.
ONYX Coating was founded in 2015 to provide the best possible car care solutions. Since then, the staff of engineers has been working diligently to formulate the best products one can buy. All while striving to provide the best possible customer service. The team is dedicated to providing the market with uniquely capable products, accessories, and specialist knowledge.
For more information, please contact the PR team at ONYX coating via info@onyxcoating.com
Share article on social media or email: